Cordless Tools
See how to increase jobsite productivity by using cordless tools and the latest Nuron battery technology: shop Hilti cordless power tools here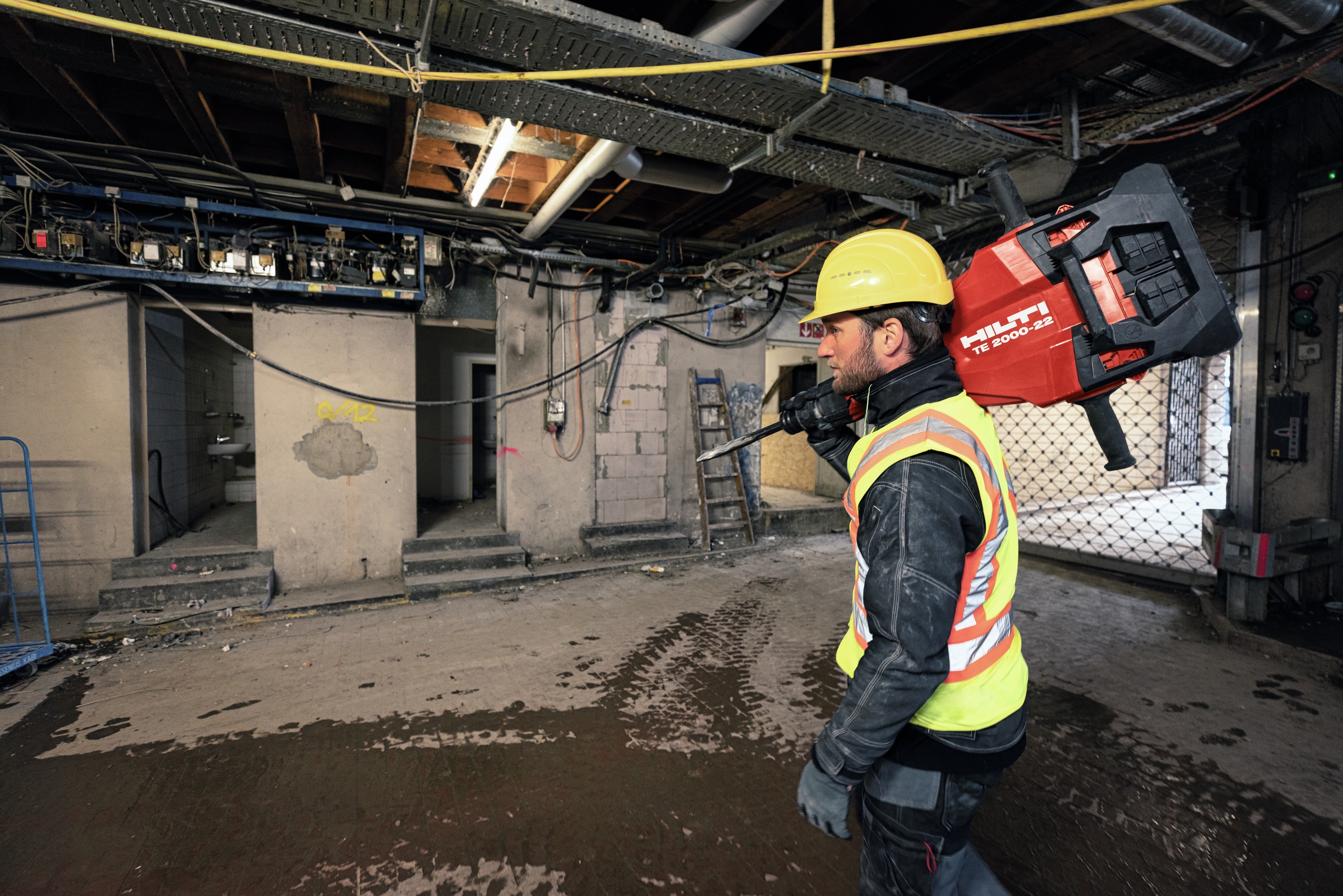 Cordless without compromise
High performance for all your jobsite tasks with the Nuron battery platform
Start performing all your corded and gas-powered applications on one battery platform with Nuron. Nuron brings new levels of performance to our cordless tool portfolio, featuring more than 100 tools for jobs from breaking and cutting to drilling and fastening. Streamline your tool crib, work faster, get more safety features and benefit from data-driven services designed to keep your teams working.
How the Nuron cordless platform can boost your productivity
One platform convenience
Simplify your tool crib – run everything from drill drivers to cut to heavy-duty demolition hammers on the same battery platform.
Higher peformance
Get up to twice the power and run time of equivalent 18V and 20V platforms and more power than 36V, corded or gas.
Reduce downtime
Locate idle or hoarded tools, get help finding missing tools, and even receive alerts when batteries need replacing with data-driven services. 
Protect your teams
Advanced safety solutions include our unique auto shut-off functions for angle grinders, versatile dust control systems, tool tethering and more.
One platform for all your jobs
Streamline your tool crib and get more flexibility on the jobsite
Managing different power sources and cordless battery platforms across multiple locations can be a headache – not to mention costly and time-consuming.
With Nuron, you can run virtually all your tools on one cordless platform. That means fewer batteries and chargers on the jobsite. And you can reduce your reliance on tools that run on other power sources.
More cordless power and run time
Get the power of corded or gas for your jobsite applications
Nuron gives you up to twice the power and runtime of comporable 18V and 20V platforms thanks to a completely redesigned battery–tool interface. Choose from different battery sizes depending on whether it's power or extra mobility you need.
For the most demanding applications, such as cutting steel pipes with a cut-off saw or breaking concrete with a demolition hammer, two 22V batteries can be combined. For lighter applications, Nuron tools have been specially designed to make your work easier.
Boost productivity with connected tools
Keep your teams working with data-driven services
Nuron gives you easy access to data-driven services that can help you:
Find tools faster by seeing where they were last charged
Avoid downtime with alerts when batteries need replacing
Reduce tool spending by helping identify idle or hoarded equipment
Nuron data also drives our digital equipment management solutions. Find out how you can streamline your processes and run more productive, profitable and sustainable jobsites.
Putting jobsite safety center stage
Cordless tool technologies designed to protect your teams
Nuron helps protect your workers with features including:
DRS (Dust Removal Systems) for virtually all tools to help reduce exposure to construction dust
Tethering options for most tools to help lower the danger of falling objects when working at heights 
AVR (Active Vibration Reduction) to help minimize exposure to hand–arm vibration
ATC (Active Torque Control) to help reduce the risk of tool kickback
Auto shut-off with SensTech and 3D-ATC
With Hilti SensTech technology for angle grinders, the tool automatically shuts off when the operator's hand is removed – for example when it is accidentally dropped. And with 3D ATC, the tool shuts off with sudden, uncontrolled movement in any direction.
Explore the AG 6D-22 angle grinder
Low noise and low recoil without gas
The BX 3(-L)-22 is low recoil and low noise while giving you virtually dust-free operation. And because it's battery-powered, you benefit from rapid and reliable fastenings without the need to store gas cans or other propellants.
Explore the BX 3-L-22 fastening tool
Dust control with cordless vacuums
The VC 140-22 helps reduce exposure to dust. Powerful enough for almost all jobsite tasks, it features a HEPA filter and automatic filter cleaning. 
Explore Nuron cordless vacuum cleaners
Nuron tools for more sustainable jobsites
Reduce resource use and help contribute to the circular economy
Nuron is about more than productivity and profitability. Here's how the Nuron platform can help you operate more sustainably:
27% of a Hilti tool's mass is recycled material including steel and plastic
We reuse or recycle tools when possible to help boost the circular economy
Nuron tools have been developed for longer runtime to help reduce power use 
Nuron batteries are designed tough to help reduce replacements caused by damage 
FAQs: Hilti cordless
What is the difference between the 12V, 22V, 36V and Nuron cordless platforms of Hilti?
Nuron is the latest addition to the Hilti cordless portfolio. It provides you with a single high-performing battery platform for all your Hilti cordless tools. With Nuron, you can reduce complexity from your business because you can carry out all your applications – from screwdriving to concrete cutting – using the same set of high-performing interchangeable 22V Nuron batteries. And because the platform is connected, you also get access to a range of data-driven services designed to simplify equipment management. Our other battery platforms include a subcompact 12V platform for working in tight spaces, our earlier 22V platform and a 36V platform for more demanding jobs like cutting or grinding metal.
Do I have to upgrade to Nuron or can I keep using the Hilti cordless tools I already have?
You can continue using the Hilti cordless tools you have. However, we highly recommend an upgrade to Nuron because the platform delivers higher performance, improved safety and greater connectivity benefits at a similar price. Hilti has been introducing more tools on the NURON platform with plans for even more in the future.
Do Nuron batteries work with other 22V and 36V Hilti tools?
You can use an adapter to run almost all of your existing 22V tools with Nuron batteries. Check the product pages on our website, contact customer support or visit a Hilti store for details on whether the adapter can be used with specific tools. There is no adapter for 36V tools.
How exactly do the smart connectivity features of Nuron work?
Nuron tools generate data which is then stored on the attached battery. When the battery is charged, the data is transmitted securely via cellular networks to the cloud. There is no interruption to your workflows because no special setup, configuration or other action is required. The data from Nuron can provide you with proactive services that help reduce downtime (such as battery replacement alerts). The data also gives transparency on tool location and usage and provides you with actionable insights to help you make more informed decisions about your tool park. These data-driven services are available using the ON!Track platform which is available via app and web.
Are all Nuron batteries compatible with all Nuron tools?
While all Nuron batteries are compatible with all Nuron tools, Hilti recommends specific batteries to be sold with each tool because they offer a better balance of performance, run time and weight for each tool. 
How does Nuron help make my business operate more sustainably?
At Hilti, we look at the entire lifecycle of our products. For example, we currently use up to 23% recycled material on average in our products (against a global average of 8%) while up to100% of our production runs on renewable energy. We also focus on tool repairs rather than replacement and when a tool reaches end of life, we collect it for free with our global collection partners. Anything that cannot be reused is recycled with our audited 3rd party logistics partners. This helps ensure that we can assess tools for reuse, either as full tools for donations or as components for our spare parts reuse program. Since our tools are over 70% metal, most of the tool's weight can reenter international commodity markets. For more information, visit the sustainability section of our website.
Upgrade to Nuron now
Browse the product catalog for Nuron tools or use our Cordless Tool Set Selector to build your own custom kit. Simply choose "Nuron" in the battery platform filter.
And if you have any questions about the upgrade to Nuron, contact customer service or your account manager.