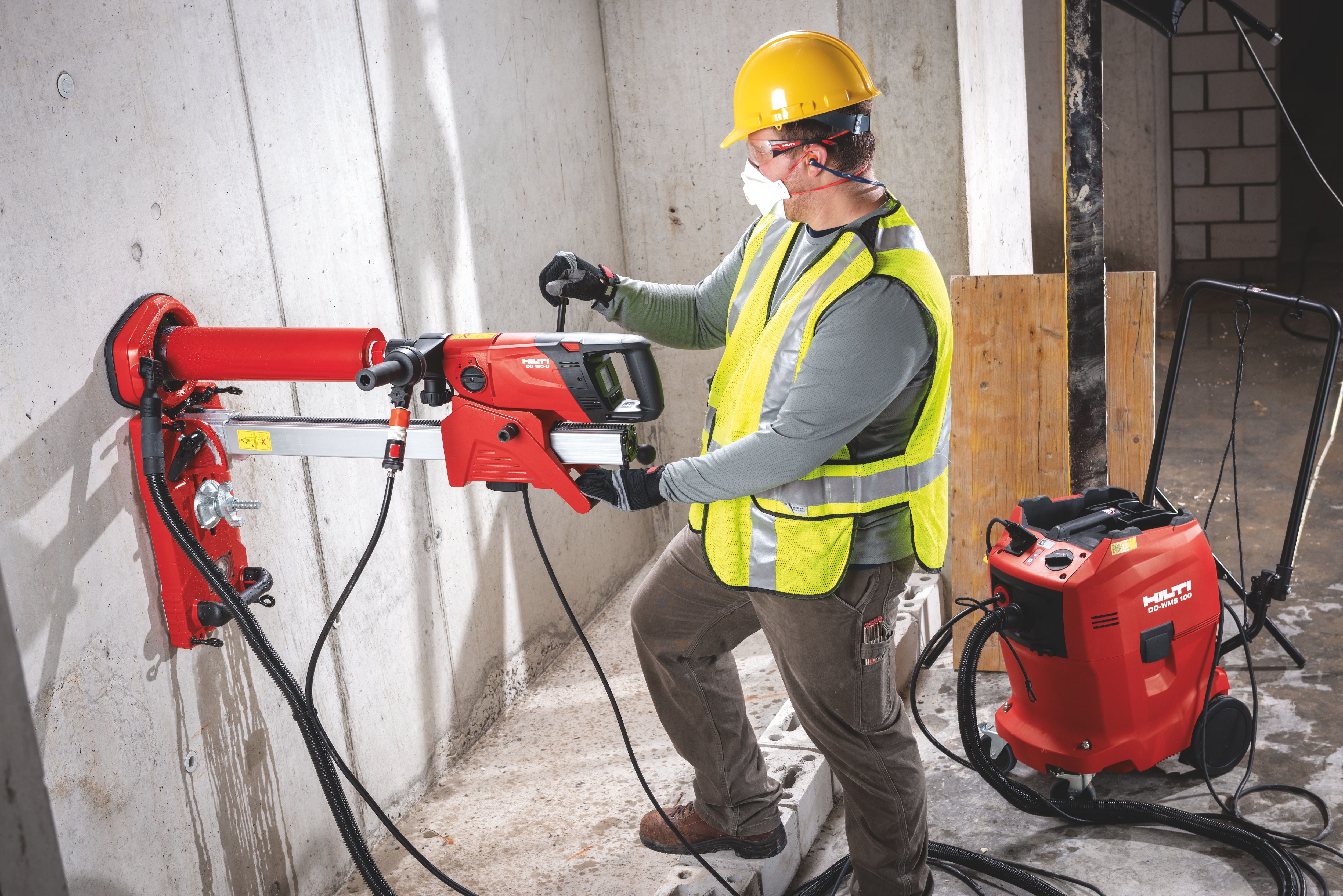 Control construction dust
Run safer, more productive jobsites by reducing dust
Everyday construction jobs like grinding, cutting, drilling, breaking and sanding create dust. This dust can cause serious illness and slow down your projects. It can also spread to surrounding areas impacting people and the natural environment. Discover strategies and solutions to minimize the impact of construction dust.
What is dust?
Dust is made up of tiny solid particles that are highly dispersed and easily circulated in the air. These particles can be very small. When particles are smaller than 10 microns, they are classified as respirable dust and when bigger than 100 microns, they are considered inhalable dust. To put this in context, the average human hair is about 60 microns thick. 
Many of the harmful particles created are so tiny that they are barely visible, and the smaller they are the longer they take to settle. For example, a 0.1 micrometer dust particle can take two weeks to settle on the floor from a height of just one meter.
This is why on jobsites, even when we don't see construction dust, we can still smell it – if you think a room smells "like concrete", it's probably because of microscopic concrete particles circulating in the air.
How is construction dust generated?
Dust is generated through the abrasive treatment of materials during tasks like drilling, chiseling, sawing or grinding. It can also occur through circulation. This could be when you are transporting dusty materials, when dust is blown around by the wind, or when you are mixing powdery materials like preparing cement. Depending on the materials you're using, different types of dust are generated.
Three of the most common types of dust affecting the construction industry are:
Mineral dust

:

 includes silica dust created by abrasive treatment of materials that contain silica e.g. sandstone, concrete, mortar or tile.

Wood dust: occurs from the abrasive treatment of wood and processed wood like medium-density fiberboard (MDF).
Other types of dust: created when using materials with little or no silica, such as gypsum dust.
Health hazards of silica dust exposure
The higher the cumulative exposure to dust, the greater the risk to health and safety. 
Long-term exposure to respirable crystalline silica (RCS) particles found in concrete, tile, brick and mortar is especially dangerous because these particles can go deep into the lungs and reach the lung alveoli. This can lead to silicosis, an incurable condition which has been proven to increase the risk of lung cancer.

Prolonged exposure to dust on construction sites can also cause Chronic Obstructive Pulmonary Disease (COPD). COPD makes breathing difficult and can seriously reduce quality of life.
Employee exposure limits for silica dust
Many countries now regulate exposure to dangerous construction dust. For example, in the US, OSHA's Respirable Crystalline Silica standard for construction sets a permissable exposure limit (PEL) for silica dust of not more than 50 micrograms per cubic meter averaged over an eight-hour day. In the European Union, the occupational exposure limit (OEL) for respirable crystalline silica is 0.1 micrograms per cubic meter as an eight-hour time-weighted average.
PEL values vary in different countries, so you should always check with local authorities to find out what PEL values apply to you.
How construction dust impacts productivity
Dust exposure is not just a health hazard. It also increases the risk of injury due to reduced visibility and distractions like eye irritations, sneezing, coughing or nose blowing.
On top of illness and injury, dust can impact nearly every stage of construction jobs:
Wasting time: sealing off areas before starting work
Damaging fixtures and fittings: such as carpets, furniture and other furnishings
Affecting other work: such as plastering, painting and electrics
Delaying handover: time-consuming clean-up work afterwards
Less noticeably, construction dust can also clog up tools by getting into motors and other working parts, which can lead to high repair costs and frustrating downtime. Dust particles also collect on sharp elements of tool inserts – such as chisel tips, drill bit edges and grinding disc surfaces – possibly making them blunt and shortening their life span. In short, dust costs money.
Strategies for reducing construction dust
You can reduce the negative effects of construction dust with the STOP principle. This defines the sequence of controlling risk.
S – Substitution
Avoid creating dust by choosing alternative methods such as cast-in anchor channels, cast-in firestop devices, direct fastening or planning with building information modeling (BIM).
T – Technical measures
Capture and reduce dust with technical solutions. This can involve dust extraction with a vac and dust removal system (DRS) or using accessories such as dust shrouds, dust guards or dust hoods. Another example is water management systems for diamond core drills. You can also seal off work areas with dust barriers and complement DRS with portable air cleaners that target fine airborne dust particles. 
O – Organizational measures
This includes risk reduction through rescheduling and planning of tasks, safety training sessions, and regular servicing and checking of tools.
P – Personal protective measures
These are required when the risk can't be removed. Use personal protective equipment (PPE) such as dust masks, googles and gloves.
Explore portable air cleaners
Alternative technologies that reduce dust
Wet diamond drilling
Keep jobsites cleaner by collecting slurry created during wet diamond drilling. Units such as the DD-WMS water management system supply, filter and collect slurry for easy disposal.
DD-WMS 100 water management system
Direct fastening
Make the switch to the BX 3-22 battery-powered nailer, designed to be a cleaner, quieter and virtually dust-free alternative to drilling.
BX 3 battery-powered nailer
Designing out concrete dust
Choose low-dust base materials or place our HAC cast-in anchor channels around the rebar before the concrete is poured, meaning little to no drilling, and therefore no concrete dust.
HAC cast-in anchor channels
Dust control systems for all your jobs
Solutions for safer jobsites
Cordless safety without compromise
Angle grinders with industry leading safety features, advanced dust removal options on virutally all tools, tethering and more – welcome to the Nuron cordless platform.
Discover the Nuron difference
Simplify safety with ON!Track